I want to be clear about one thing: these are NOT my rankings. You've seen plenty of iterations of those. My preseason rankings have risk, injury, RBBC considerations, and a ton of other things built into them. No, these are my predictions for who
could
finish the season in the top-12 at each position. In a best case scenario with fully healthy seasons, my position lists below will provide you some additional insight into who I think has major upside and who might be prone to being a bust in 2019. I'm still more or less going to stick by my rankings when it comes to doing my fantasy drafts, and I suggest you do the same. But there's always a lot of turnover in the top-12 at each position when you look at end of season ranks, so I thought it'd be fun to put some predictions out there and see what turns out to be right when the season ends. I'll also have some
bold
picks sprinkled in.
Let's get to it!
QBs
Deshaun Watson
Patrick Mahomes
Carson Wentz
Jared Goff
Kirk Cousins
Baker Mayfield
Cam Newton
Lamar Jackson
Aaron Rodgers
Kyler Murray
Matt Ryan
Dak Prescott
You'll notice right away that while I have Mahomes as my #1 QB in my rankings, I'm not picking him to finish that way at the end of the year in my QB list. Of course he could (and he might), but no one has repeated as the #1 fantasy QB since Daunte Culpepper in 2004. Is it likely that Mahomes repeats? Actually no. No it's not.
It's really hard to narrow this list down to 12 with so many possibilities at the QB position. Honestly, I could see about 24 different guys in this list, but I had to chop that number in half. Because of that, I had to leave off certain guys like Russell Wilson and Philip Rivers, even though both guys finish in the top-12 virtually every year. Oh, and Andrew Luck. I'm officially scared about his mystery injury. I also have some sleepers above in
bold
. I feel like Lamar Jackson and Kyler Murray will get so much yardage with their legs, they'll both crack this list if they play 16 games. You'll also notice I have Kirk Cousins (who no one seems to be talking about this year) in my top-5. He has great weapons to throw the ball to and was consistently a top-10 guy in Washington. I don't see why he couldn't crack this list again with a good Viking offense, and with guys like Blake Bortles and Alex Smith finishing as top-5 QBs in recent years, why can't Kirk?
This list just shows how deep the position is though because I really wanted to include guys like Josh Allen and Mitchell Trubisky, but there's just not room for everyone!
RBs
Alvin Kamara
Christian McCaffrey
Ezekiel Elliott
Marlon Mack
Saquon Barkley
David Johnson
Chris Carson
Dalvin Cook
Nick Chubb
David Montgomery
Aaron Jones
Kerryon Johnson
What's the deal with Gordon and Zeke this year?!? Everyone was so sure Le'Veon Bell wouldn't hold out all of last season, but of course he did. Both guys are virtual top-12 locks if they play, but there's real concern that both holdouts will last into the regular season (especially Melvin's, which is why I'm leaving him off my list). In addition to Melvin Gordon, you won't see names like Todd Gurley or even James Conner in my projected top-12. I have a feeling both guys will miss a big chunk of games this season, and that can be said for a lot of running backs because it's just a brutal position on your body.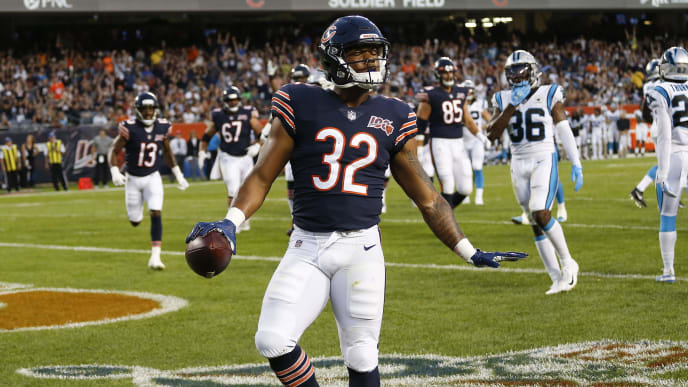 And while Marlon Mack as a top-5 RB is bold, I think it's within the realm of possibilities with Indy expected to be such a good offense. And my thought process around Luck's injury is it could mean more Mack early in the year behind that tough offensive line. It's also very common for only a couple of top-5 RBs to be in next year's top-5 RBs. And if I'm picking two to repeat, it's Kamara and McCaffrey. Zeke also feels like a lock, but the holdout is concerning. A rookie tends to crack the top-12 every year lately, and I think this year it'll be Montgomery and not Josh Jacobs.
WRs
JuJu Smith-Schuster
Davante Adams
DeAndre Hopkins
Amari Cooper
Odell Beckham, Jr.
Michael Thomas
Tyreek Hill
Julio Jones
Robert Woods
Jarvis Landry
Stefon Diggs
D.J. Moore
I'm calling a couple of long shots here. While a lot of people have Amari Cooper in their top-10, not many will predict him to finish in the top-5. But the boldest prediction on this list might be Jarvis Landry, especially because everyone seems to be fading him this year. Can Baker Mayfield support two top-12 WRs? I think it's possible. We've seen it happen on other teams: 2018 Steelers (Brown/JuJu), 2016 Packers (Adams/Nelson) & Saints (Thomas/Cooks)…& RAIDERS (Crabtree/Cooper)! There are more examples, but it's happened 4 times in the last 3 seasons. With the expectations for this offense, I don't see why it couldn't happen in Cleveland this year. D.J. Moore is another interesting name on this list, and this very well could be Curtis Samuel instead. But I'm going to guess that Cam turns the first round draft pick into a star in 2019.
TEs
Travis Kelce
Evan Engram
Zach Ertz
Vance McDonald
O.J. Howard
Hunter Henry
George Kittle
Austin Hooper
Jack Doyle
Jordan Reed
Jared Cook
Rob Gronkowski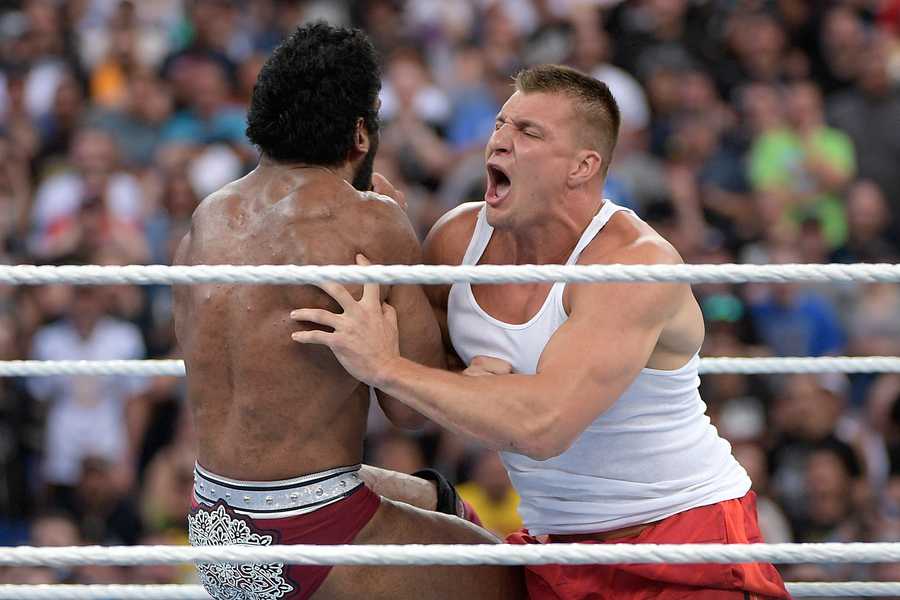 Last year I didn't list everyone's favorite "sleeper" tight end George Kittle in this article, and he broke out in a big way. But this year he's not the only receiving option in San Fran, and I think he could fall outside of the top-5. I
am
including Vance McDonald in my top-5, as someone needs to catch all of those vacated targets from Antonio Brown. I also like Jack Doyle more than Eric Ebron this year, and I think it's bold to have him on this list instead of Ebron. You may have also noticed Gronk on my list. Well, last year Antonio Gates was quasi-retired and came back. I think Gronk could do the same a few weeks into the season. I just picture him watching games on his couch like "BRO! I need to get back in there!!!" And if he does, he's certainly a shell of the old Gronk. But he could also catch 7 or 8 touchdowns and finish as a top-12 fantasy tight end if he plays 10 games or so.
I'll keep updating my rankings, and I'll post a couple more articles before the season starts.
Stay tuned...
Cheers,
Bart